Work with Us: Active Duty, Reserve, and Coast Guard Civilian
Established in 1939, Auxiliary members have worked alongside our Active, Reserve, and civilian shipmates for over 75 years. These pages are intended to enhance your understanding of the Auxiliary and facilitate effective use of the Auxiliary to further Coast Guard missions.
The Commandant's Auxiliary Policy Statement should be your starting point.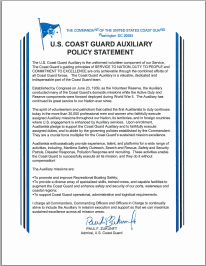 "The U.S. Coast Guard Auxiliary is the uniformed volunteer component of our Service. The Coast Guard's guiding principles of SERVICE TO NATION, DUTY to PEOPLE, and COMMITMENT TO EXCELLENCE are only achievable through the combine efforts of all Coast Guard forces. The Coast Guard Auxiliary is a valuable, dedicated and indispensable part of the Coast Guard team." Read the rest of the statement.
The primary source of Policy for the Auxiliary is COMDTINST M16790.1 (series) Auxiliary Manual (links to annotated version).
Under Coast Guard administration the Auxiliary is organized into four unit levels: Flotilla, Division, District, National. At the District and National levels the Auxiliary is aligned with the Coast Guard organizational structure. Divisions may or may not be aligned with Sectors. For more on Auxiliary organization see the Auxiliary Manual.
For a visual overview of our offices and roles please see this graphic:
Overall administration of the Auxiliary is the responsibility of the Chief, Office of Auxiliary and Boating Safety (BSX). District administration of the Auxiliary is the responsibility of theDirector of Auxiliary (dpa) in each District. In addition each Sector has a Sector Auxiliary Liaison Officer assigned as a collateral duty. While many units and offices have relationships with local Flotillas and Divisions, any questions of policy should be discussed with the key point of contact indicated in this table:
| | | |
| --- | --- | --- |
| Sectors and subordinate units | Sector Auxiliary Liaison Officer (1) | Auxiliary Sector Coordinator on behalf of the District Commodore (2) |
| Districts | District Director of Auxiliary (dpa) | District Commodore |
| Atlantic Area and Pacific Area | Chief Director of Auxiliary (CG-BSX) | Deputy National Commodores - Atlantic East & West / Pacific |
| Force Readiness Command | Chief Director of Auxiliary (CG-BSX) | |
| Headquarters and Headquarters Units | Chief Director of Auxiliary (CG-BSX) | National Commodore |
(1) COMDINST 5401.6(series) 7.B.9.
(2) COMDINST 5401.6(series) 2.C.4.d
If you have any difficulty finding contact information please submit an Auxiliary Help Desk ticket.
If you are looking for a local Auxiliarist with a particular skill beyond Coast Guard qualifications we have outside skills information on over 40% of Auxiliarists. The key contact above can point you to the self serve tool available to all Coast Guard forces for accessing this information. 
Page Last Reviewed or Updated: August 22, 2015